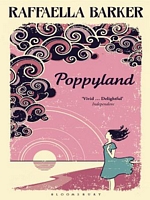 image source
The wonderful team at Bloomsbury India asked me if I would like to review some of author Raffaella Barker's work. When I said yes, they promptly sent me a set of 6 of her stunning books! You can check out all the other books I received
HERE
So even before I started reading the books, I fell in love with the cover art. It's got such an amazing old world charm to it, like being nestled on a cozy porch and snuggling up with a book and coffee in your hand, looking out at the silent sky filled with clouds...I don't know how that sounds to you, or how I sound to you right now, but there is something so wonderful about the book covers that it instantly drew me to them.
This is the second book I read by the author, the first being
Come and Tell Me Some Lies.
You can
read the entire review HERE
What I felt on reading both her books is the fact that her narrative is very warm and encompassing. There is something so cozy about her stories and her books that you want to get together with the characters and relate to them, understand them, hold on to them that little bit longer.
Poppyland by Raffaella Barker
has a lone man overlooking a beach in Norfolk, smoking a cigarette and watching a woman who is at the beach with her two young children. Even as you are getting into the scene, we are taken back five years earlier than the present day, where Grace, a young English painter, is about to attend the opening of her first exhibition. She is going to be showcasing at a very prestigious art gallery and is full of nerves. But even as she tries to play the part, she soon moves out of the gallery and as they say, meets a tall, dark, handsome stranger, who we get to know as Ryder. There is a lot of sexual chemistry going on, but without either of them acknowledging it, and soon they are pulled apart in the consuming crowd of the gallery. Needless to say, they don't know how to get in touch with each other.
The story moves ahead many years. Grace lives in New York with her wealthy and older boyfriend Jerome, and is now beginning to feel a kind of drift in the relationship. All that she now wants is to be consumed by her work and begins questioning the basis of her relationship.
Ryder, on the other hand, is living on a houseboat and is also lonely, far away in London.
Throughout the book, the two share an unknown bond of loss and grief. Ryder is grieving for the loss of his sister at a very young age, while Grace grieves for the death of her parents and their earlier divorce.
What you feel through the story is a connect of grief and loss, and a kind of yearning that will appeal more to you if you have ever experienced something like this in real. For me, the emotions were very real. There were a few parts that I skipped out, but they were really few, and the book in itself was a very fast yet fulfilling read.
If you are looking at this as a hardcore romance, your expectations need to change, as the romantic angle is quite subtle here. The sexual chemistry is present, but in limited degrees. More than anything else, its the yearning that keeps the story so close knitted.
- Debolina Raja Gupta